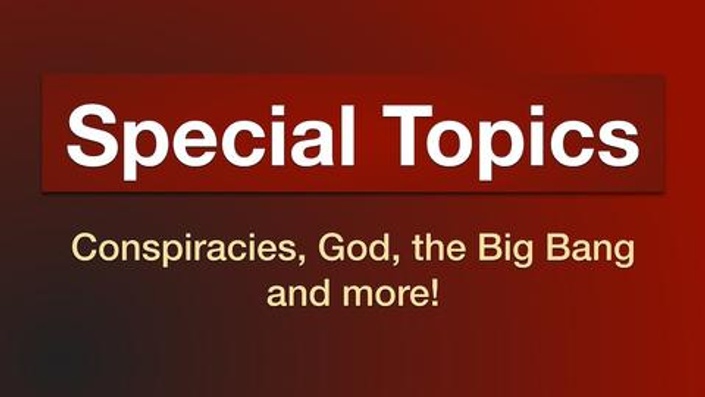 Special Topics: Conspiracies, God, the Big Bang and More
Join the discussion on some of the popular topics from the Critical Thinker podcast.
NOTE: This course is included in the site-wide bundle which unlocks every course in the Academy.
---
While I was producing the Critical Thinker Podcast I did a few episodes that where very popular but that can only be described as "special topics" -- critical thinking about conspiracy theories, God and the Big Bang, etc.
In this course I've collected a few of these and made them available here.
---
What Will I Learn in This Course?
In this course you'll learn:
about the relationship between critical thinking and conspiracy theorizing
an argument for default skepticism about global conspiracies
the history of some real conspiracies (COINTELPRO and MK-ULTRA)
an introduction to Karl Popper's "falsifiability" criterion for scientific statements, and how this applies to conspiracy claims
the Kalam argument for the existence of God
the philosophy of causation, time and Big Bang cosmology
five reasons why majoring in philosophy in college is a good idea
an introduction to fallacies, and an illustration based on a viewer question
---
What Do I Get With This Course?
When you enroll in this course you get
5 video lectures, totaling 2 hours of viewing time
Full transcripts for each of the lectures, embedded below the videos
Discussion comments for each of the lectures, allowing you to ask and respond to questions and comments
4 pdf ebooks totaling 66 pages, suitable for printing or viewing on a desktop computer or tablet device
Content
Critical Thinking About Conspiracies
Available in days
days after you enroll
Causation, God and the Big Bang
Available in days
days after you enroll
Five Reasons to Major in Philosophy
Available in days
days after you enroll